Mazzano Romano
Mazzano Romano in Valle del Treja Park, Latium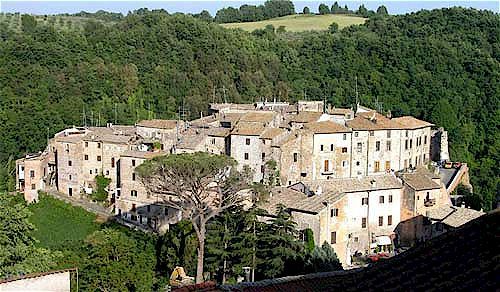 Mazzano Romano
The little town of Mazzano Romano is located on a high point above the gorge of the Treja stream, a tributary of the Tiber, inside the Valle del Treja park , one of the most pristine areas of Latium. It seems that the origin of the name Mazzano is to be found in Roman times when there was a penal colony here with the name Messano or it might derive from Matianum which was the name of a noble Roman family, or perhaps from both. Remains of sepulchres and mosaics found in the area provide evidence of a Roman presence.

The oldest documentation of the name of the Castello di Mazzano is in a parchment from 945 in which it is recorded that Prince Alberico, one of the most important individuals in mediaeval Rome and father of the future Pope John XII, made a donation to Benedetto, abbot of the monastery of Saints Andrea and Gregorio at Celio. The abbots remained fuedal lords until 1526 when they were replaced by the powerful Counts of Anguillara.

In 1599, Flaminio Anguillara gave Mazzano to Cardinal Lelio Biscia and in 1658 the fife passed by inheritance to the noble Del Drago family who administered it until the land reforms of the Ente Maremma in the 1950s. The adjective "Romano" was added to the name Mazzano in 1872.
> > > Click the pictures for a larger view < < <